Looking back in history one can't help but notice that the trend in computer components is smaller and more powerful.  While not a hard and fast law or theory it is quite noticeable from an empirical perspective.
Then we get to the double slot graphics card: This abomination just doesn't follow the general flow, and while more powerful it definitely isn't smaller and in fact squanders two slots of the precious space available on motherboards.
Where this anomaly really clashes with advancement is in Small Form Factor computers.  Their very nature is based upon the efficient use of limited real estate for the most powerful system possible.
Which leads us to today's topic the Shuttle SG45H7…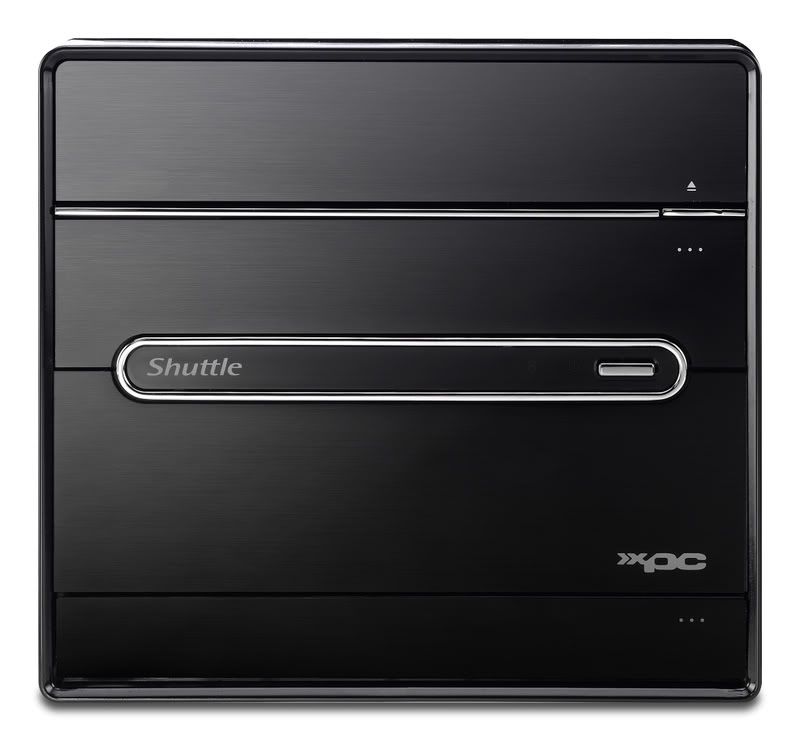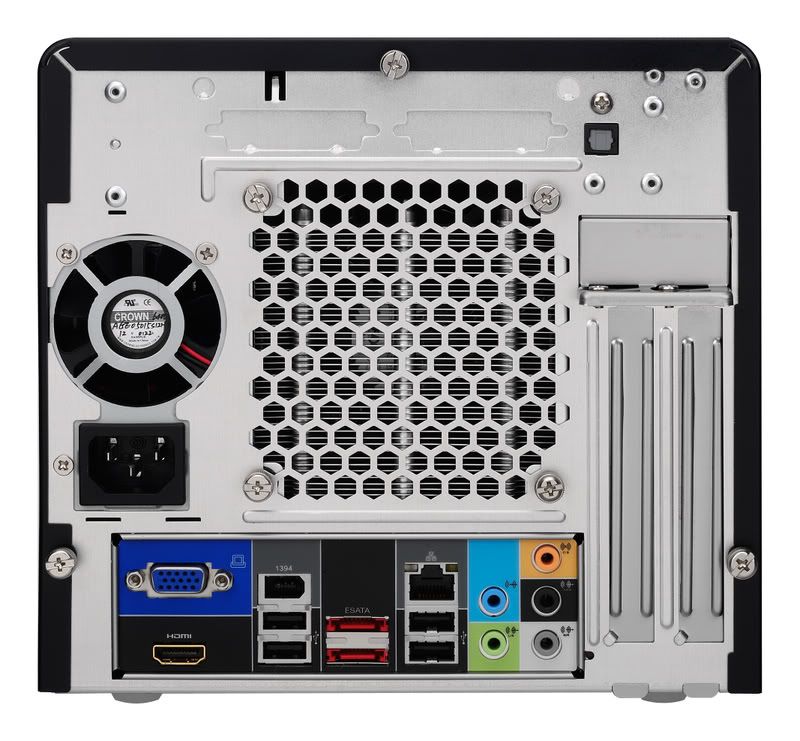 Shuttle might not have invented the Small Form Factor computer but they have surely adhered to its mantra and make, arguably, the nicest SFF's on the market. After using a G2 style case for a period of time a standard ATX case seems like a "tall iron" computer room cousin.
Compromises had to be made in order for Shuttle to achieve that desirable footprint with the G series Shuttles. A dual slot graphics card, understandably, couldn't fit in the case without some mod practitioner doing his dirty deed.
But that changed with the introduction of the P case which with its larger size handles most dual slot cards with ease.
Still, the Shuttle traditionalists were yearning for a G type case with the layout making a dual slot possible
Shuttle's H7 case is slightly larger than a G but smaller than a P.
This picture should give some perspective of relative size:


Front to back: G2, H7, P2
These are not the only changes with the H7 case. Take a look:

The cabling is done with the aid of a fully enclosed detachable channel now, not just clips.
And what is that you notice there?
….hehe you got it.
Yes, you're seeing correctly: the 16X PCIe slot is on the inside, allowing for dual slot graphic cards to be utilized.
This will block the PCI slot but don't think many will complain about that.
I personally tried an ASUS 8800 GTS 640 and it fit and ran fine as did a Visiontek HD 4870 which is running in it now.
I haven't mentioned anything about the G45 chipset motherboard yet so lets touch on that now.
Here it is:
Performance
These readings were taken under Vista Ultimate x64 with 8G of ram and a Q6700 running at stock 2.66G.
An Asus HD4850 and a Visiontek 4870 were tested as well as the onboard G31, G45 IGP.
SG45H7

SG31G2

SX38P2

4870

4850

Intel G45

4850

Intel G41

4850

4870

CS: Source
1600 X 1200
Max settings

264 fps

229 fps

32 fps

227 fps

15 fps

223 fps

260 fps

HL2: Lost Coast (x64)
1600 X 1200
Max settings

129fps

121 fps

16 fps

118 fps

7 fps

120 fps

121 fps

Lost Planet Demo
Default

102 snow
78 cave

69 snow
77 cave

6 snow
7 cave

68 snow
75 cave

NA

68 snow
76 cave

100 snow
77 cave

Fear
Max settings

68 min
176 avg
512 max

63 min
142 avg
357 max

NA

61 min
144 avg
353 max

NA

56 min
141 avg
352 max

69 min
182 avg
506 max

3DMark 06
Default

13817

11599

1134

11542

NA

11594

13628

3DMark
Vantage

P8733

P6147

NA

P6093

NA

P6086

P8594
A quick glance at the numbers shows a increase in performance with the SG45H7 over the X38 and G31 Shuttles.
Data slots marked NA are there because Intel onboard graphics just are not made for games.
The SG45H7 can claim that it doubles the fps over the SG31G2 in CS: Source and HL2: Lost Coast but neither is playable.
Transfer rate between 2 HDD one internal and one connected to the front eSATA connection was good.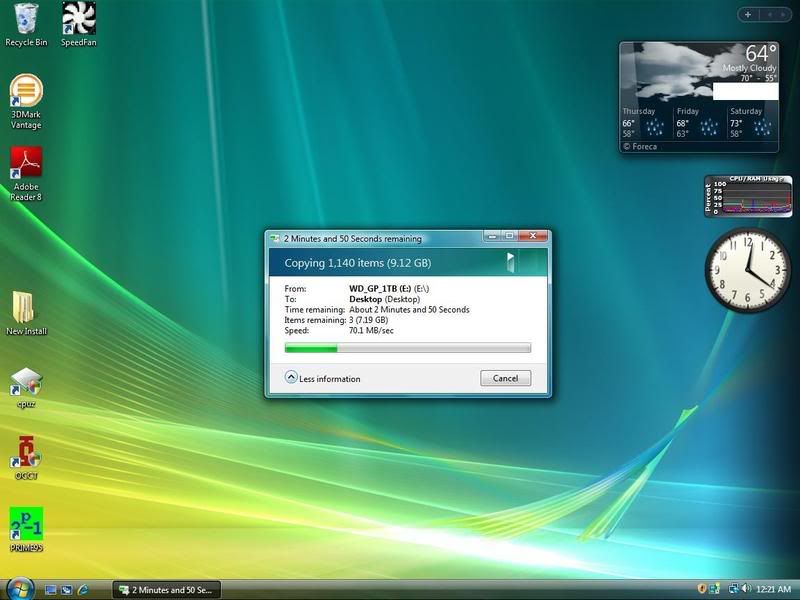 This is the highest rate I have gotten with Vista Ultimate x64.
As the benchmarks show this is a competitve chipset in a nice form factor.
While the use of a dual slot graphic card will hinder the use of the pci slot you still have that option.
Coupled with the eSATA connctions on the front and back, this box is bigger than its footprint suggests.
Somehow the phrase Small Form Factor doesn't equate with 8G of ram and 5 HDD capabilities.
Overclocking
For whatever reason I feel that if an Extreme chip is utilized then it should be overclocked. There is no reason to get an Extreme chip otherwise, IMO.
I flashed the bios to the latest "I" flavor and tried to get the C2D X6800 chip close to its 3.6G max. This chip is a B revision, so I didn't have much hope.
The old chip did itself proud running at 3.47GHz with 1.4V. Temps were maintained around 70C under full load [Prime95] and showed itself to be stable for an extended run. It overclocked nicely and I'm sure that I left some performance still on the table.
SFF computers are inherently not designed for uber OC'ing and I feel that any OC is a bonus. The SG45H7 exceeds that standard by being an acceptable box for moderate overclocking.
Movie Playback
HDMI movie playback was great with good audio using regular movies. CPU usage was at ~10% with a Q9300 and 2G of ram.
Blu-Ray playback was not possible with my LG DVD/Blu-ray player and software that came with the drive, even after downloading an ~90MB "upgrade" for the software. I don't know what the problem is with this failure, but I would suspect software.
The Intel drivers worked with bringing both video and audio over the HDMI connection. Intel graphic driver 7.15.10.1554 and HD audio HDMI 6.10.00.1005 ICH10 USB… They just worked. hmm…what a concept.
Final Thoughts
What do we have here with the SG45H7?
We have a new form factor case and Motherboard which utilize the G45 chipset. This new form factor has a lot going for it. Dual slot cards are no problem. 4 ram slots for affordable 8G installs are a great feature. The eSATA connection on the front panel is also a neat idea. Size matters and this is a nice size for a computer.
While slightly larger than a G it is smaller than the P, with many of the P's virtues.
In other words there isn't a whole lot not to like about this new Shuttle. This is a computer worthy of a Sudhian recommendation and receives a 9.5 out of 10 rating.