My first thoughts of the SX38P2 Pro were not good.
This is before I used it as my main computer for three months.
Now what are my thoughts? Read on and find out.
SX38P2 Pro
The SX38P2 Pro came into my life when my open boxed SG33G5 did what open boxed devices do sometimes.
It developed a problem that couldn't be fixed and Newegg wouldn't replace it as I requested [begged] but instead just gave me my money back.
I then had to utilize the SX38P2 Pro that was purchased during a buying spree of mine.
So there it sat in my basement bidding it's time until necessity forced my hand.
Having to give up my beloved SG33G5 was a strike against this bigger box with the larger and louder 80+ rated 450W PSU.
One strike was all that was necessary for me to have a "not so kind" disposition in regard to this system.
Looking with scorn toward this box it would have seemed just about impossible for me to accept it as my own.
But I was stuck. My other Shuttles were sold or given/lent to relatives and my house without a operational desktop computer was never really an option.
With that as the background let us begin our journey with this reluctant star and have a look at the SX38P2 Pro:
Note: Newegg was used for my purchases and I linked to items at their site.
They have good service and their prices are competitive.
SPECIFICATIONS

General

Brand

Shuttle
Model
SX38P2-Pro
CPU Supported
CPU Type
Intel Core 2 Extreme / Quad / Core 2 Duo
CPU Socket
Intel Socket T(LGA775)
FSB
1333/1066/800/MHz

Chipset

North Bridge
Intel X38
South Bridge
ICH9R
Memory Supported
Memory slot
4 x 240Pin
Memory Type Supported
DDR2 667/800
Max Memory Supported
8GB
Dual Channel Memory Supported
Yes

Expansion Slots

PCI Express
2 x PCI Express x 16 (Gen 2.0)
Storage
IDE ATA
1 x ATA 100
Serial ATA
4 x SATAII 300
Audio
Onboard Audio
Realtek ALC888DD
Channel
8-CH
Communications
First LAN
Marvell 88E8056(10/100/1000Mbps)
Max LAN Speed
10/100/1000Mbps
Extension Bays
3.5" Internal bays
1
5.25" External bays
1
Front Panel Ports
Front USB
2
Front IEEE 1394
1 x Mini IEEE 1394
Front Audio Ports
2 jacks
Back Panel Ports
Rear USB
6
Rear IEEE 1394
1
RJ45
1
Rear S/PDIF Out
1 x Coaxial & 1 x Optical out
Rear Audio Ports
6 jacks
Other Rear Ports
2 x eSATA port
Power Supply
Input
100 – 240V AC
Power Supply
450W
Support 80 PLUS
Physical SPEC
Dimensions
12.8" x 8.3" x 8.7"

Packaging

Package Contents
SX38P2-Pro
User Manual
Driver Disk
I.C.E Technology CPU heat-pipe
2 x SATA cable (pre-install)
SATA cable
IDE Cable (pre-install)
Floppy cable
1 set to 2 set 6pin VGA power cable
2 x Cross Fire bridge
USB to USB cable for Speed-Link
1 set 4pin Power Cable
Power Cord
Screws
Heatsink Compound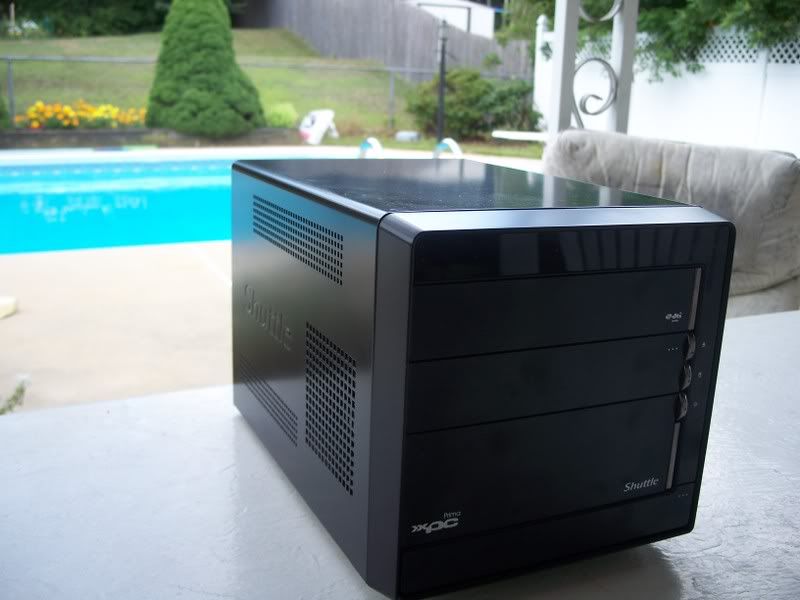 Without the burden of my "pre-dislike" the SX38P2 Pro is a handsome assembly.
Even the added inches vs a G2 case are not all that noticeable in reality.
I thought since I'm "stuck" with this box let me utilize its strengths.
As shown in the specifications this barebone is equipped with two 16 X PCIe slots.
I took this as a mandate to see how it works with dual Asus 4850's in Crossfire.
The final hardware list for my SX38P2 is rather high end:

Shuttle SX38P2 Pro
2 X Asus EAH4850 in crossfire
2 X [2 X2Gig] sticks of PC6400 G.Skill memory.
QX9650 Extreme CPU
2 X WD 500Gb AAKS HDD SATA
1 X Samsung 1TB F1 HDD SATA
1 X WD 1TB GP SATA HDD [This is used in a AZIO external eSATA enclosure http://www.newegg.com/Product/Product.aspx?Item=N82E16817106099 ]
LG DVD
This Shuttle is made for enthusiasts. The thought kept running through my mind while I proceeded to see what it could do.
I have set the CPU to 3.6G [333MHz X 11] 1.275V, the memory to 4-4-4-12 timings running 1:1 at 667MHz and set the 4850's to 660MHz core and memory to 1020.
While not extreme these are nice settings for any fully stable system used 24/7.
This is the outcome of these settings/Hardware:
>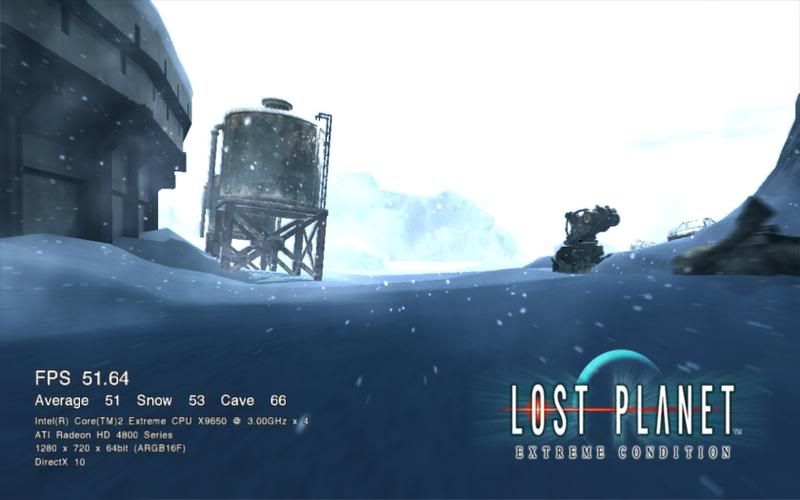 This demo did not scale with Crossfire.
1680 X 1050, Not to shabby
And of course 3DMark Vantage: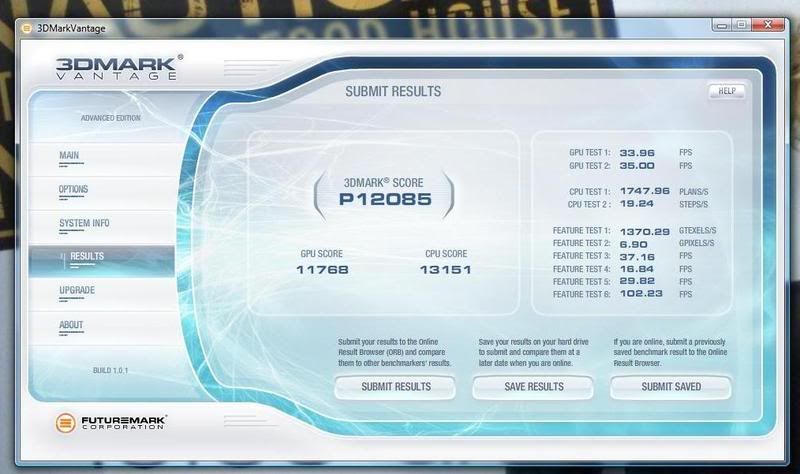 Final Thoughts
This was an easy over clock and benches show a very powerful system that is half the size of a regular ATX box.
I guess you can tell that I'm missing my SG33G5 less and less.
Yup, that is the current situation because while that Shuttle makes for an excellent system there is not any possibility of it doing what the SX38P2 can do.
They serve different functions and that is reality.
The bottom line is that for a do-it-yourselfer that wants a very powerful system with built-in cable management in a small box.
You can't go wrong with a P2 case Shuttle barebones system.
The limiting factor for this system is the Intel X38 chipset which has shown but few advancements over the P35 variant.
This barebones is recommended for the enthusiast looking for a small, powerful system.
[url=http://www.sudhian.com/index.php?/forums/viewthread/104382/]Discuss this in our forums[/url]